a beautiful waterside venue in Gippsland Victoria.
(yes we are Covid refund flexible)
Join us this October as we explore the peaceful sailboat/yachting waterways of Metung, Chinamans Creek moorings, the rivers and countryside, Metung township, paint one day in nearby Lakes Entrance, visit celebrated eateries, and more of this beautiful area.
Depending on final numbers, the pricing for the 7 night, 8 days is $1890.
If you are interested please let us know
.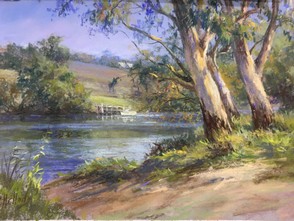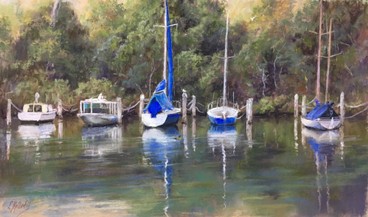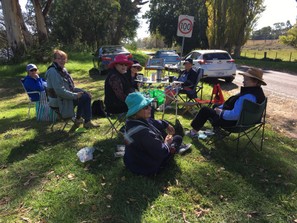 Pastel & Watercolour touring art workshops
with
Lyn Mellady and Julie Goldspink
April 2022
Unfortunately the 2020 trip was cancelled due to Covid. We are taking expressions of interest until new dates can be confirmed.
The autumn colours of Bright and valley vistas from Mt Buffalo
Lyn Mellady and Julie Goldspink your two expert tutors, allow you to work in your prefered medium or change at will. You do not have to choose in advance. Both are there to help you gain the most from your travelling art holiday. Bring your watercolours or pastels or both, plus a travel sketch book and camera. You are ready for everything. You will be able to paint, sketch and photograph 'til you run out of light or simply watch the demonstrations and enjoy the company, and experience
for more information and make any payment or booking as needed.
This tour has been cancelled for 2020 but will hopefully be available for 2022.
We are taking NO booking fees until dates can be comfirmed.
Your deposit of $250 to secure your booking comprises $200 + a $50 non refundable booking fee.
(this is retained by the accommodation venue)
These prices may have to be revised when new arrangements are made.
The single supplement price means a bedroom to yourself + shared bathroom) A twin shared room is $1590 PP.
Non painting partners deduct $500 but are welcome at all group dinners/functions.
Please note, choice of room is allocated, strictly in the order that your booking deposit is received.
About Your Tutors:
Lyn Mellady – One of Australia's foremost Pastel Artists best known for her sea, cliffs and landscapes in pastel and oil.
A trained teacher, Lyn has the skill, knowledge and enthusiasm to help bring your art to a new level. With 5x paintings in government collections here and in Japan, and featured in 8 art reference books, she is also a member of the Fusion6 portrait artists, art judge and ex AGRA president who established the Australian Art Excellence Awards with the support of Australian Artist in 2000. With over 4 decades of successfully painting full time earning many admirers and awards, Lyn retired from her commercial gallery (2011-2016) to return to the freedom to paint and share her experiences.
Julie Goldspink
– A very accomplished watercolour artist with extensive knowledge in most mediums, Julie travels frequently to give workshops in watercolour and mixed
media Australia wide.
She loves to paint inland, landscapes, rivers, sea or flowers – wherever the light falls. Julie's art has won many awards and admirers. Her gallery in Port Macquarie and presidential activities with the Hastings Valley Art Scieties before moving to Melbourne are the background depth to her life with art. Featured on Graeme Stevenson's Put Some Colour in Your Life. Her most recent article was published in the Australian Artist Magazine in Dec 2017.
Pictures from previous art tours