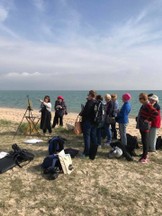 Lyn explains the list of items that an artist should bring when attending one of her workshops or painting en plein air.
Fraser Island Moonlight
A pastel demonstration of the early twilight on Fraser Island. The gentle calm of the evening is painted with a soft balance of the warm and cool colours of the fading light.